Ningbo Heng Di auto sales & Service Co., Ltd.

Ningbo area biggest Audi 4S shop -- Ningbo Heng Di car sales Service Co., Ltd., is located in Beilun District of Ningbo City Yongjiang Road No. 2 (Yongjiang road and Taishan Road intersection). Dedicated to the eternal FAW-VW Audi brand value and distinguished service, Beilun District and the eastern part of town, Zhenhai and other surrounding areas of the majority of the Audi users to provide more convenient and professional services.
Ningbo Heng Di 4S shop covers an area of 18000 square meters, the investment of more than 100 million yuan is in accordance with the FAW - Volkswagen Audi's new global standards of construction set brand experience, car show, new car sales, after-sales service and tasting Audi used car showrooms, CBD exhibition hall in one of the 4S stores.
In the overall design of the exhibition hall, Ningbo Heng Di adhering to the Audi global recently "dynamic, non symmetric and full transparency" design style, the Audi brand "spirit, exalted, dynamic" brand value through to every detail.
Ningbo Heng Di to customer convenience and distinguished experience for the idea, eternal love, the intentions of services for the purpose, beyond the traditional luxury car brand 4S shop mode, inside the hall supporting according to Audi's global latest uniform standard design, 4S store has a super large parking field, meet, come, car maintenance, customer parking needs; hall equipped with 18 parking spaces in the new exhibition area, as well as global synchronous audio-visual area, comfortable customers rest area, rest area, wireless network in the surf zone, so that customers in Ningbo Heng Di waiting every second feelings comfort and dignity;
Ningbo constant Dida 1 million square meters of after-sales maintenance service area, is currently in Ningbo largest after-sales maintenance workshop, set up a total of 80 repair station, daily maintenance reception capacity has reached more than 300 motorcycles, ensure each one into the shop customers can enjoy the most efficient maintenance service.
Companies with a full set of the latest German imported Audi computer detection and repair equipment, the world's most advanced car sound correction system platform, paint room, nearly 700 kinds of special maintenance tools, including Germany imported four wheel positioning device, in possession of R8 station dedicated, sheet metal aluminum body repair stations of professional tools.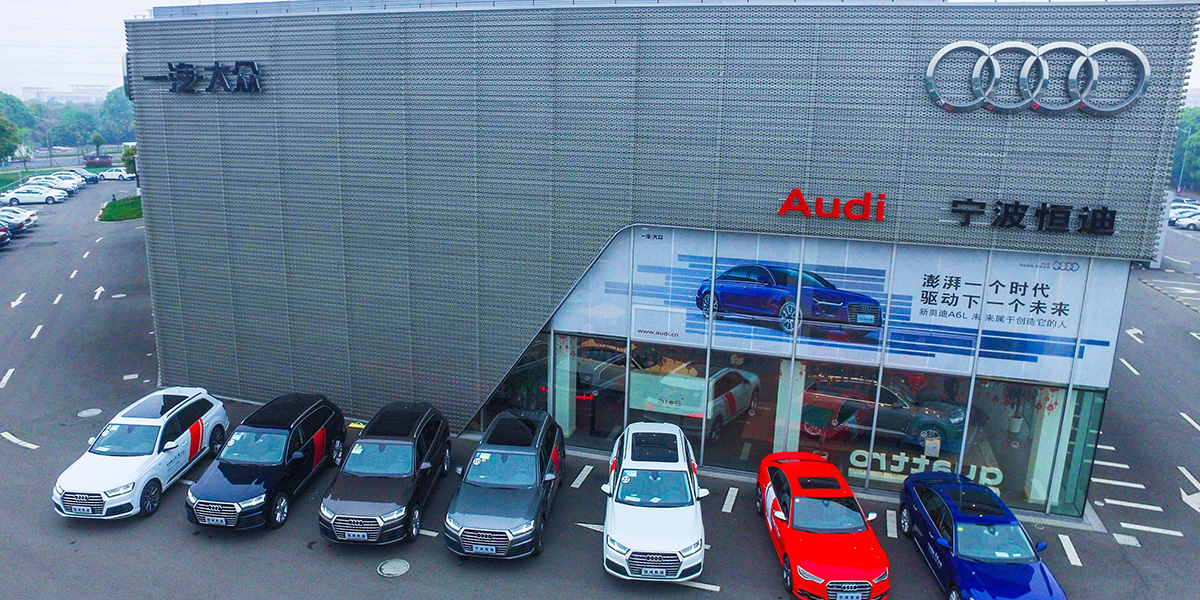 After-sales service station strictly according to Audi "transparent workshop" global pre-market after-sales service management mode, through the modem networking system, efficient customer files, maintenance schedule and spare parts inventory data management. Audi owners in the maintenance of the waiting period, in addition to the Internet in the rest area for a cup of tea, or viewing, can also through "transparent workshop" display system, only need to press the button of the remote control, you can check your car's maintenance of the whole process, Audi service professional, meticulous, exclusive privileges Xpress visible on the screen.
If we say, good hardware constitutes the basis of the service users, then the professional quality of the staff, is the key to achieve the distinguished service. Ningbo Heng Di staff received professional training of Audi and through rigorous testing, especially after-sales service team of technicians per capita 5 years luxury car brand service experience, thus every link in the service process are to ensure that the professional and give customers a sense of dignity.
Audi "Zhuo Yue" service concept, is continuing to provide users with "professional, distinguished, pleasant" high-end car service. From the exhibition hall construction of high standard, to the latest global standard hardware configuration to a team of professional staff, and in more detail to every Audi owners provide Audi exclusive booking service, Audi replacement car service, 24 hours road rescue and respect individual shared service, Ningbo Heng Di has everything, only for cash and delivery of the Audi brand service idea.
Top Audi City Hall
Company to meet Ningbo urban customers demand for FAW-VW Audi brand special at 120-150 Min An Dong Lu, Jiangdong District, Ningbo, established first in Ningbo area FAW-VW Audi brand licensing CBD city hall, exhibition hall set new car sales, boutique display as a whole, comfortable environment that buy a car, noble car buying experience, convenient car buying service let you experience the FAW-VW Audi brand "Zhuo, Yue" service.
Ningbo Heng Di auto sales & Service Co., Ltd. will be the perfect exhibition design, high-end brand experience, rich models show, superb service to bring you beyond the imagination of the distinguished experience and personality.